36 minutes ago





Comments:


Hilary is a politician. Most if not all politicians keep less than 20% of their promises. I'm more worried about Trump keeping his promises. If you listen to his supporters here, they HOPE he doesn't keep any of them!!!
---
40 minutes ago





Comments:


Coke,

There are laws and then there are laws. Some 1/2 million Iranians broke the law after Iran/Iraq war and left Iran illegally. Some entered European and North American countries illegally. Most are very successful, working hard, raising families and paying their fair share of taxes, ...

Most of these illegal immigrants in USA are working their ass off cleaning, cooking, farming and paying their fair share.

Should they get their citizenship automatically? No! Should they go through the process and try to become legal? Yes.

Extensive background checks and waiting their turn is the logical way to bring them out of the shadows.
---
8 hours ago





Comments:


Gorbi jan, do you think that Hillary will keep her promises after elected? Her track record has been horrible in every position she has held.
---
10 hours ago





Comments:


Bardia, I tried to fix your link, but it appears that the video has been pulled on FB, so that's why it's not showing here. With FB videos all you have to do is post the link, the video will appear as a photo on the page, but if you click on it the video will start.
---
10 hours ago





Comments:


Fantastic speech by Bernie. In so many words, he told his supporters that Hillary has conceded many points to him and that they can look forward to Hillary doing some of the work for him. Bernie's movement is alive and well, and SOME of it can be expected in a Hillary presidency.
---
10 hours ago





Comments:


Zinsky jan what i mean is they openly come out very proud saying they broke the laws. No country on earth would allow this to be fair to US government. They need to make it hard for these 11 million to live in USA and that will drive them out.
---
12 hours ago





Comments:


Gorbi, do you mean my link isn't working?
---
12 hours ago





Comments:


Coke,

Most of these 11 million illegals have been here for years and years. Borders are for new comers. What to do with millions already here?
---
13 hours ago
Comments:
دمکراتها میگن ایران و روسیه ایمیل حز بشونو هک کردن تا هیلاری رو خراب کنن چون دوست دارن ترامپ انتخاب بشه
عجب آفتابه لگنی خخخ
---
13 hours ago





Comments:


Perspolis' new jersey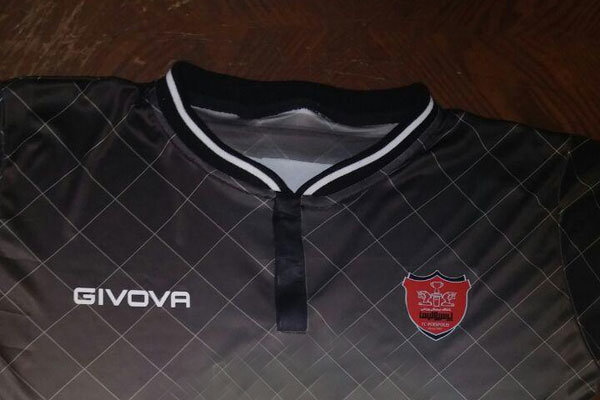 ---
13 hours ago





Comments:


Folks, FYI... If you want to post a FB video,

just post the link

. If you use the editing tools the video will not work.
---
13 hours ago





Comments:


Imagine they bring an undocumented immigrant on convention floor proudly chsllenging US's immigration system. This is bizarre and shows you how out of touch Democrats are.

If all illegal immigrants are going to stay in US, so whats use of having a border.
---
14 hours ago





Comments:




What??!!!!!?


منصوریان تصریح کرد: از هفته ۷-۸ ما را محروم می‌کردند شروع زشتی در لیگ بود باید اجازه می‌دادند هواداران ما در هفته اول به ورزشگاه می‌آمدند و ورزشگاه پر می‌شد یا از هفته ۸ یا ۹ ما را محروم می‌کردند. این تصمیمات نشان می‌دهد که افرادی که برای هواداران و فوتبال تصمیم می‌گیرند تصمیمات‌اشن فوتبالی نیست باید اهم فی الاهم کرد. حوزه خلیج فارس و تمام دنیا شروع لیگ ما را نگاه می‌کنند از هفته چهارم به بعد ما را محروم می‌کردند

LOL. Aftabeh Lagan.


سرمربی استقلال در رابطه با اینکه آی‌تی‌سی رابسون نرسید، اظهار داشت: تا ساعت ۲۰:۱۵ دقیقه صبر کرد تا آی‌تی‌سی رابسون برسد. مسئولین به من گفتند لیست تیمت را بده و ساعت ۲۰:۱۵ دقیقه هنگام ورود به زمین تیک لیست را می‌زنیم. یادم رفته کدام عزیز این حرف را زد وقتی خواستیم امین را اضافه کنیم گفتند ما تیک زدیم و نمی‌توانیم این کار را بکنیم. به نوعی سرم کلاه رفت اگر به حرف او اطمینان نمی‌کردیم لیست را نمی‌دادم و تا لحظه آخر صبر می‌کردم تا خودم تیک بزنم اما به ما گفتند تا ۲۰:۱۵ صبر کن و سپس تیک را بزن که آن فرد را گم کردم نمی‌‌دانم کجاست.

منصوریان گفت:‌یک مقدار ریسک کار را بالا بردیم نمی خواهیم این مسئله را گردن مسئولان بیندازیم منتظر ماندیم تا آی‌تی‌سی بازیکن برزیلی برسد ساعت ۱۶ ما ۷ صبح آنجا و ساعت ۱۸ ما ۹ صبح برزیل است. امیدمان این بود که با باز شدن فدراسیون برزیل آی‌تی‌سی برسد. نمی‌خواهم این مشکل را گردن مسئولان بیندازم اما آن فرد گفت تیک را برایت می‌زنم. دقیقه ۵۰ محمد خرمگاه گفت تیک را نزدند و به ما کم‌لطفی شد
---
14 hours ago





Comments:


Hillary is trash. Vote Trump
---
17 hours ago





Comments:



Bardia. Agree

But you said "Daei". You won't hear the end of it
---
18 hours ago





Comments:


کلا علی دایی تیماش همیشه از حریف بهتر کار میکنن. فقط نمیدونم چرا به جایی نمیرسن
---
18 hours ago
Comments:
---
19 hours ago





Comments:




Perspolis

vs.

Saipa



Tuesday @ 9:15 AM PDT
---
19 hours ago





Comments:


3 ties and one win today.
---
19 hours ago





Comments:


Daei's team has 'looleh" Esteghlal! Naft has hit the post twice and has had other very good opportunities.

1-1 so afar

I don't think Mansourian will be very popular in Esteghlal. Esteghlal and Perspolis fans won't accept defensive teams and that is his style. Branko only became popular because Perspolis started playing attacking style ala Denizly team
---
20 hours ago
Comments:
---
23 hours ago





Comments:


Germans got paid!!!


گروه ورزشی / حوزه فوتبال ایران۹۵/۰۵/۰۴ :: ۱۸:۱۵ مشکل کاپیتان تیم ملی حل شد/ پلیس آلمان گواهینامه دژاگه را برگرداندخبرگزاری فارس: مشکل کاپیتان تیم ملی حل شد/ پلیس آلمان گواهینامه دژاگه را برگرداند
مشکل کاپیتان تیم ملی فوتبال ایران در کشور آلمان حل و فصل شد.
به گزارش خبرگزاری فارس، پس از اینکه اشکان دژاگه چند هفته پیش در کشور آلمان به خاطر سرعت زیاد و برخی مسائل دیگر مشکلاتی را به وجود آورد، گویا این مشکل حل و فصل شده و پلیس طی روزهای گذشته گواهینامه کاپیتان تیم ملی فوتبال ایران را به وی برگردانده تا او دوباره بتواند پشت فرمان نشسته و رانندگی کند.

البته محمدرضا ساکت مدیر تیم‌های ملی نیز هفته گذشته در گفت‌وگو با فارس صریحا گفته بود که در پرونده ارسالی دژاگه به فدراسیون فوتبال هیچ مشکل اخلاقی دیده نشده و گویا همین موضوع باعث شده است تا ابهامات پرونده دژاگه رفع شده و پلیس آلمان هر چه سریع‌تر گواهینامه او برگرداند.


---
23 hours ago





Comments:


سرمربی پرسپولیس برای اولین بازی سرخپوشان در فصل جدید ۱۹ بازیکن را برای حضور در اردو مشخص کرد.

به گزارش خبرگزاری تسنیم به نقل از سایت رسمی باشگاه پرسپولیس، برانکو ایوانکوویچ در پایان تمرین امروز یک شنبه سرخپوشان ۱۹ بازیکن را برای بازی با سایپا مشخص کرد که یک نفر دیگر تا پیش از بازی از فهرست اولین دیدار خارج می شود. بیرانوند، لوبانوف، ماهینی، حسینی، محمد انصاری، ربیع خواه، کامیابی نیا، احمدزاده، مسلمان، عالیشاه، علیپور، امیری، محرمی، نوراللهی، ساسان انصاری، طارمی، پلی یانسکی، پریمیوف و گولچ نفراتی هستند که فردا دوشنبه پیش از تمرین باید برپایی اردوی پیش از بازی از ساعت ۱۴ در هتل ارم حضور
---
23 hours ago





Comments:


Round 1

R Date Home Score Away HT Crowd HT FT
1 7/25/2016 Esteghlal TEH - Naft TEH
1 7/25/2016 Saba QOM - Sanat Naft ABD
1 7/25/2016 SiahJamegan MSH - Zobahan ESF
1 7/25/2016 Teraktor TBZ - Esteghlal KHU
1 7/26/2016 Foolad KHU - Mashin Sazi TBZ
1 7/26/2016 Gostaresh TBZ - Paykan TEH
1 7/26/2016 Saipa ALB - Perspolis TEH
1 7/26/2016 Sepahan ESF - Padideh MSH
Created on 7/21/2016
---
23 hours ago





Comments:


The rednecks of this country hate/fear the police/government as much as blacks. The example was the Bundies. They arm themselves to make sure federal government doesn't cross the line!

I personally don't think it's a debate worth having. It's part of the American pride.
---
July 24





Comments:


In response to Senior Ahmad_DC comment on July 18, your comment was "

I think the second amendment was not rooted in anti-government ideology. There was a lot of discussion on the republic needing an army or not. The states rights people were against any kind of major role for the federal government. I think they actually called themselves anti federalists. However, since the states were not going to maintain an army they agreed that the federal government would be able to establish an army in times of war but it would not maintain a large army during peace times and the congress would actually control the spending. So the second amendment passed so they could quickly form armies against foreign enemies like the British or the Spanish. It was never meant to allow folks to battle the sheriffs or the police or the US army

."




Amendment II. A well

regulated

Militia, being necessary to the security of a free State, the right of the people to keep and bear Arms, shall not be infringed.

The Second Amendment was among the first 10 Amendments, referred to as the Bill of Rights. These were the 'rights' imparted to the people. They were proposed on 25 September 1789, more than a year after the Constitution was ratified by the states. The Bill of Rights was ratified by the states on 15 December 1791.

Let's step back for a moment. The Declaration of Independence was actually a list of grievances, documented by Thomas Jefferson, and formed a statement of secession from England, and the Monarchy of George III. It addressed the 13 colonies, and was our 'birth certificate', as we had separated from England on 4 July 1776. The Revolutionary War had actually begun over a year earlier, on 19 April 1775, at Lexington and Concord, Massachusetts. The individual states could not take on the British Army and Navy, so George Washington was asked to form an Army, and lead it against the Brits. Washington needed a way to raise money to pay troops and buy war materials. To create a legal document to get each state to help finance the war, the Articles of Confederation were drafted on 17 November 1777. This was 2 1/2 years after the war began, and almost 1 1/2 years after breaking with England. The 'Articles' had some key problems that Washington found to be difficult, including the inability to raise sufficient funds (taxes) for paying the Army and buying equipment, it relied on volunteer militias (disproportionate) from each state, and crossing state boundaries was often contentious. The 'Articles' effectively became our first Constitution on 2 March 1781, when they were ratified by the states. This first Constitution was adopted 6 years after the war began, and 2 1/2 years before the end of the war on 3 September 1783, with the signing of the Treaty of Paris. The war had a price tag of $151M.

The state militias returned home, but the government formed by the 'Articles' was nearly impossible to govern. A president was selected every year by the Congress. The state militias were selectively maintained, because the 'peace' with Britain was uneasy, and the French, the Spanish, and the indigenous tribes were all a threat to the development of commerce needed to pay for the war. The US Constitution was created to replace the 'Articles', and form a Constitutional Republic. The Federal Convention began on 14 May 1787, with two purposes; To replace the 'Articles' by amending their defects; and, to establish three great departments of government: the legislative, the executive, and the judicial. James Madison was the primary author of the Constitution. The Constitution was signed by 39 Representatives on 17 September 1787, and was ratified by the states on 21 June 1788. So why did it take so long for the Bill of Rights (and the 2nd Amendment) to be created? The convention separated the roles and responsibilities of the government, placed in the Constitution, from the rights belonging to the people. The old world European monarchies rarely allowed the rights and freedoms noted in our Bill of Rights. Madison and the convention feared a return to the 'old ways' within our new country. If there was to be a coup, or overthrowing of a tyrant, the people must have the option of being armed. Today we think of a "well regulated Militia" as the National Guard, directed by the state Governor to deploy. But, what if the "security of a free state (or Nation), is being usurped? Hence, "the right of the people to keep and bear Arms, shall not be infringed." The discussion about who the 'people' are battling, depends on who is doing the usurping, or oppressing. A compelling argument can be made based on the fear of an anti-government ideology, such as any number of -isms, in violation of the Constitutional based rule of law.

This is a simplistic commentary.
---
July 24





Comments:


My line up for first World Cup qualifying vs Qatar.

Haghighi

Poor Ganj Ali - Hossieni

Rezaian - Haj Safi

Ebrahimi - Ezatollahi

Amiri - Jahanbakhsh

Dejagah - Azmoon
---
July 24





Comments:


What's wrong with this mannequin???



---
July 24





Comments:


Embarrassing!


---
July 24
Comments:
ما هنوز اندر خم یک کوچه ایم
سرمربی تیم ملی قطر هماهنگی لازم را با مربیان باشگاهی هم انجام داده است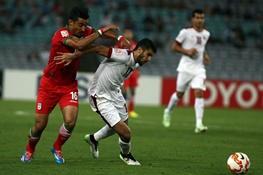 به گزارش خبرگزاری خبرآنلاین؛ به نوشته رسانه های قطری، تیم ملی این کشور با برنامه ای دقیق مشغول آماده سازی برای شروع مرحله نهایی مقدماتی جام جهانی است. در ادامه این برنامه ریزی، کارنینو سرمربی اروگوئه ای تیم ملی قطر جلسه ای را با صبری لاموشی سرمربی الخریطیات که سابقه مربیگری الریان و ام صلال را هم دارد، برگزار کرد. هدف از برگزاری این جلسه کمک به تیم ملی بود. تیم ملی قطر قرار است راهی سوئیس شود و اردوی خارجی خود را برگزار کند. این تیم تا روز بازی با ایران سه دیدار دوستانه هم برگزار می کند. قطر در حال حاضر یک دوره تمرینات بدنسازی و تاکتیکی را در سالن پشت سر می گذارد و این در حالی است که تیم ملی ایران فعلا خواب است و تازه از روز ۲۳ مردادماه استارت می زند. ایران و قطر روز ۱۱ شهریور ماه در اولین بازی مرحله نهایی انتخابی جام جهانی رودروی هم قرار می گیرند.