an hour ago





Comments:


The 2 hamid posts 3 hours ago are from an imposter.
---
an hour ago





Comments:


Isa Town: Reza Jafari's brace booked Islamic Republic of Iran a place in the semi-finals of the AFC U-19 Championship Bahrain 2016 on Monday evening as Amir Peiravani's side handed Uzbekistan a 2-0 defeat to also qualify for the finals of next year's FIFA U-20 World Cup in Korea Republic.
A goal in each half from Jafari sets up a meeting with Saudi Arabia in the last four, and also sees the Iranians qualify for the finals of the global youth tournament for the first time since 2001.

Jafari's two well-taken goals were backed up by a resolute defensive performance by Iran, who largely limited Uzbekistan to a series of attempts from outside the area that caused goalkeeper Shahab Adeli few problems.

After making a raft of changes for his side's final group match against China, Uzbekistan coach Jasur Abduraimov reverted to his preferred starting line-up as the Central Asian side set their sights on qualifying for the FIFA U-20 World Cup for the third tournament in a row.

It was the Iranians, though, who made the strongest start and, by the 13th minute, Peiravani's team had taken the lead. Abolfazl Razzaghpour's free kick into the box was miss-controlled by Reza Shekari before the ball fell at the feet of Jafari and he thumped his shot beyond Umidjon Khamroev.

Uzbekistan pushed for the equaliser throughout the remainder of the half, but the Iranian defence restricted their opponents to attempts from long range.

Jasurbek Yakhshiboev slalomed his way into the area, only to see his shot blocked, before a series of attempts by Sharof Mukhitdinov from distance. The first from 30 yards was just over the bar while a free kick from similar distance was collected by Adeli at the second attempt. Meanwhile, Khojiakbar Alijonov's shot hit the side netting 11 minutes before the break.

Less than two minutes after the restart, Iran doubled their lead, this time capitalising on some slack play in midfield by the Uzbeks. Shekari picked up possession just inside his own half and played a quick ball forward into the path of Jafari, who outsprinted Islom Kobilov before slotting the ball past Khamroev.

Another Mukhitdinov attempt flew over before Shekari squandered the chance to put the outcome beyond doubt when he dragged his attempt at goal well wide of the target, while with 18 minutes remaining Husniddin Gofurov missed the opportunity to pull Uzbekistan back into the game when he headed over the bar from less than six yards out.

The Uzbeks continued to press - and Shahab was forced to make a spectacular one-handed save from Yakhshiboev in the dying seconds - but Iran's disciplined backline gave little away as Peiravani's team closed out the game to seal an historic result.
---
an hour ago





Comments:


We also made it to U20 WC in South Korea in 2017
---
an hour ago





Comments:


We won 2-0 on a set play & a counter. Uzbaks had probably over 70% possession. We are playing Vietnam in semi. Also Japan will play Saudis in other semi. By the way I loved this youtube feed you can really hear everything and all the action from sidelines and in the field of action
---
3 hours ago





Comments:


This thing is too close for comfort. The polls are still worthless since they are not converging. Give it another week.

Clinton is in the lead and Trump is in trouble since there is no Reagan vs Carter comeback in the books. In that election we had the misery index, we had Iran embarrassing Carter on a daily basis with news about the release of the hostages, and we had only one debate that was scheduled for 7 days before the election so yes Reagan closed the gap and won it with a one liner in the debate.

So here is all one needs to know:

http://2016election.procon.org/view.source-summary-chart.php

http://www.wnd.com/2015/05/here-they-are-hillarys-22-biggest-scandals-ever/

http://www.huffingtonpost.com/entry/donald-trump-hired-me-as-an-attorneyplease-dont_us_579e52dee4b00e7e269fb30f

I am with her over the "George Washington, Assodeh bekhab, cause I've got it" guy.





---
3 hours ago





Comments:


Uzbaks dominating but Iran scores 1-0
---
3 hours ago





Comments:


Watch the game here

---
4 hours ago





Comments:


We all know and dealt with people like Trump in our lives. He is not unique. I had a friend in high school similar to him. I had couple of bosses like him as well. I never had a good experience with people like him. I just don't see how the average joe can imagine him caring for them.

Worse part is that he has no idea how to govern. He has no allies on either side. He could be a great dictator if USA had such system. He could be like Putin!

I don't see anything done under his control in government.

Hillary will have a hard time as well. The country is divided. As we have seen the past 6 years, nothing can be done in congress.
---
4 hours ago





Comments:


"Condoleezza Rice, she's a lovely woman, but I think she's a bitch. She goes around to other countries and other nations, negotiates with their leaders, comes back and nothing ever happens."

"You look at Rumsfeld and we spend $900 million a year, and arms and legs and lives are wasted. You look at all this and you ask what kind of government is this? ... If you don't have smart people running the government, then good entrepreneurship will get you nowhere."

Trump That Bitch!
---
4 hours ago
Comments:
---
5 hours ago





Comments:


It could turn out to be a short election night. PA is still the state that could determine the election. Without PA, Trump has no way to 270!
---
5 hours ago





Comments:


... and Turkey helps ISIS and is warring against Assad because they want the Qatari option which will mean transit tax for them as well as cheap Qatari gas. Right now they buy their gas from Iran and switching to Qatar will be of huge cost savings for them.
---
5 hours ago





Comments:


Farzad, both pipes go through Syria, hence the fight for the land. Whoever controls Syria will guarantee safe passage of fuel going through it. Both US and Russia wants that role. Up to now, and perhaps the next 30 years, the US has controlled the Persian Gulf and safe passage of oil, the next big fuel market is natural gas and Syria has become the cheapest passage for both Iran and Qatar, so both countries are now involved with manpower from Iran and Qatar supporting ISIS.

Iran and Qatar hold the largest gas field in the world with Qatar's part being about 2/3 of it, the rest to Iran. But Iran's passage through Iraq and Syria and under the Meditranian sea makes Iran's gas much cheaper than Qatar's, since Qatar's will have to be delivered to Europe via ships, hence Qatar's assistance to ISIS against Syria's Assad. This is really the reason why both Qatar and KSA are helping ISIS fight Assad.

Russia's help for Assad is more to help themselves keep and control the European gas market. They sell Europe a good percentage of their gas and they have used gas as a weapon in the past, they want to keep that control.
---
5 hours ago





Comments:


"Did you see the debate and the way of their speaking, accusing and mocking each other? Do we want such a democracy in our country? Do we want such elections in our country?" Rouhani said, speaking to a crowd in the Iranian city of Arak.

"You see the United States that claims it has had democracy for more than 200 years," he said in comments broadcast live by state TV. "Look at the country, what the situation is where morality has no place."
---
6 hours ago





Comments:


Aftabeh Lagan..... was it part of the ransom money?
http://www.isna.ir/news/95080201505/%D9%85%D8%A7%D8%AC%D8%B1%D8%A7%DB%8C-%D8%B9%D8%AC%DB%8C%D8%A8-%D8%AA%D9%88%D9%82%DB%8C%D9%81-%DA%86%D9%85%D8%AF%D8%A7%D9%86-%D9%BE%D9%88%D9%84-%D8%AA%DB%8C%D9%85-%D9%85%D9%84%DB%8C-%D8%AF%D8%B1-%D8%AA%D8%A7%D8%B4%DA%A9%D9%86%D8%AF
---
7 hours ago





Comments:



Gorb,

Both pipelines cross Syria... so I don't understand.
---
7 hours ago





Comments:


Zinsk

http://graphics.latimes.com/usc-presidential-poll-dashboard/
---
16 hours ago





Comments:


پیشنهاد عجیب کره جنوبی به کی‌روش



ورزش > فوتبال ملی - کره جنوبی به سرمربی تیم ملی فوتبال ایران پیشنهاد داده است.

به گزارش خبرگزاری خبرآنلاین؛ كارلوس كی‌روش اصلا چهره محبوبی در كره جنوبی نیست. او هر بار كه ایران و كره جنوبی با هم مسابقه دارند، وارد جنگ روانی با این تیم می‌شود و در مجموع هم تیم او نتایج خوبی مقابل كره جنوبی گرفته است. اما با این حال كره جنوبی قصد دارد این مربی را جذب كند.
روزنامه خبرورزشی در شماره امروز خود خبر از این موضوع داده و نوشته كه چشم بادامی‌ها می‌خواهند قاتل خود را استخدام كنند. این روزنامه برای این خبر، تیتر «پیشنهاد عجیب كره جنوبی به كی‌روش» را انتخاب كرده است.
---
16 hours ago





Comments:


Gorbi, this map is completely baseless. The last thing Russia wants is competition from Iran supplying natural gas to Europe. Their main objective is to keep the only naval base they have on the Mediterranean coast. Believe it or not the earth largest country main access to the oceans is through the arctic!
---
16 hours ago





Comments:


In case you were wondering what the Syrian conflict is all about, this map explains the whole thing. Two proposals, one supported by the US, the other supported by Russia:

From Jill Stein's Twitter account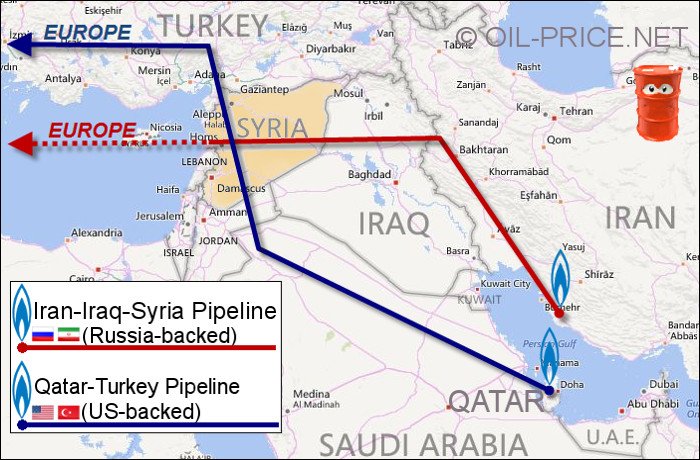 ---
17 hours ago





Comments:


Ronaldinho


http://giphy.com/gifs/l0MYwctRxqf0LU6sM/html5
---
17 hours ago





Comments:


Oh well, it's not over till it's over. Just about two weeks left!

https://www.google.com/amp/www.nj.com/articles/19523486/despite_the_pundits_whove_decided_the_race_is_over.amp?client=safari
---
19 hours ago
Comments:
http://www.ifyouonlynews.com/wp-content/uploads/2016/10/CvNpqdlUsAA0pfg.mp4?_=1
---
19 hours ago
Comments:
AFC U-19 Championship Quarter-final
Monday, October 24, 9:15 AM PDT
---
19 hours ago





Comments:


Farzad, one of these days the headlines are gonna say:



ممد مایلی از حسادت کیروش دغ کرد




---
19 hours ago





Comments:




Wikileaks tweeted Thursday that the group has a "suprise [sic] in store" for Kaine and the Democratic National Committee interim chair Donna Brazile.



So far, the leaks have proven to be embarrassing but not damaging. I am not sure if there is anything "ugly" in there. I would assume Wikileaks have posted them by now. Maybe they are waiting for the last day or week!!!
---
20 hours ago
Comments:
hamid,

All good
---
20 hours ago





Comments:


Zinsky, I am just pulling your leg. Don't mind me, I just hate when my Steelers lose to Brady Bunch!
---
20 hours ago





Comments:


Trump has been polling around 40+% for the past few months. It hasn't dropped much from there no matter what. Hillary had a much larger swing. Can she get 50%? I don't think so. 48-49% seems more likely...
---
20 hours ago





Comments:


Too many copy and paste!